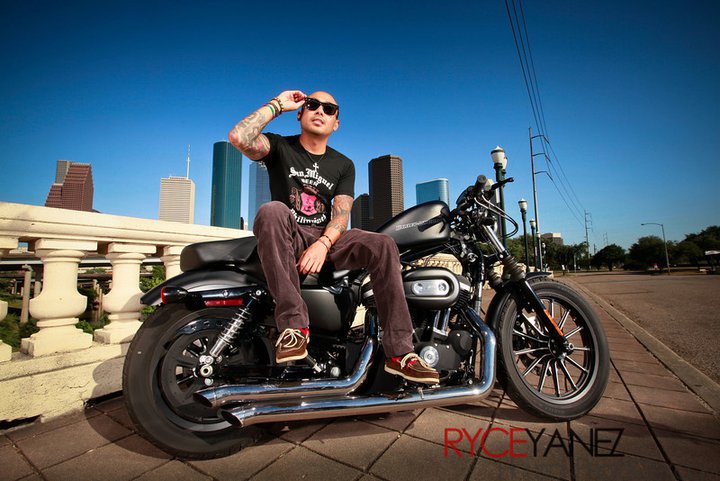 Philippines native Dandee Danao, better known by his eponym Dandee Warhol, is a distinguished figure in the contemporary Houston art circuit. Valued for his distinctive aesthetic, which draws upon the influence of pop art as well as popular culture, Danao is also recognized as a dynamic collaborator, curator, and visionary. Danao's works often depict iconic cartoon characters, alienated from their original backdrops and partaking in counter-culture recreation. While edgy, the images also inspire nostalgia, because the characters themselves were central to the 1980's and 90's cultural landscape. In this way, his work likens to his that of his namesake Warhol because of its ironic use of popular media subject matter. A majority of his pieces are characterized by meticulously designed geometric patterns. Danao is self-taught and colorblind, two idiosyncrasies that grant his style definition. He is familiar with a broad range of techniques and experimentation (including aerosol, oil and tape), though he works chiefly with acrylic on canvas. His style exhibits purity of lines, undetectable brushstrokes and arrangement of contrasting colors.
Shortly after establishing himself in the local arts scene, Danao founded War'Hous Visual Studios, an art space and assemblage of creative talent providing services including art consultation, design, and curation. Working through the studio, he demonstrated an avid commitment to the local and underground art community by coordinating eclectic shows and showcasing the city's emerging talents. The intersection of talent provides a backdrop in which he and his creative contemporaries best thrive. Past collaborators of his include, among others, Houston muralist Daniel Anguilu, Cirque du Soleil, Texas Children's Hospital, and the Lawndale Art Center. Recently, Danao established a non-profit division of the company, War'Hous foundation, with the intention of enlisting local artists to develop art therapy programs for children.
Just one year after emerging in the Houston art scene, Dandee Danao was awarded the Reader's Choice Best Artist of the Year by the Houston Press (2011). The recognition indicates the completeness with which he represents the city of Houston's diversified taste.
Education
Mayde Creek High School Katy, Texas in 1998
Bachelors in Finance and Management, University of Houston, Texas in 2008
Occupation
Founder and CEO at War'Hous Visual Studios, LLC
Atelierista at W.I.D.E. School, a Reggio Emilia inspired facility
Selected Exhibitions 2017
The Big Show, Lawndale Art Center, Houston, TX
6th Annual Star Wars Art Festival (curator), Houston, TX
Houston Inspired Interactive Mural, Downtown Houston, TX
Floating World, Cindy Lisica Gallery, Houston, TX
10×10 Art Show, Houston, TX
Selected Exhibitions 2016
Miami Art Basel, Wynwood Miami, FL
Tony Tasset's Artists Monument, Chicago IL
Bombay Sapphire Artisan Series (finalist), Austin, TX
HUE Mural Festival, Houston, TX
DeeJon Exhibition at Neiman Marcus, Houston, TX
NFL Super Bowl Helmet Exhibition, Houston, TX
Found Underground, Houston, TX
24th Annual Art Crawl, Houston TX
5th Annual Star Wars Art Festival (curator), Houston, TX
11th Annual Via Colori, Houston, TX
Atelieristas (co-curator), Houston, TX
Galveston Art Walk, Galveston, TX
10×10 Art Show, Houston, TX
Selected Exhibitions 2015
Miami Art Basel, Wynwood Miami, FL
HUE Mural Festival (co-curator), Houston, TX
4th Annual Star Wars Art Festival (curator), Houston, TX
The Cristina Project, Houston, TX
10th Annual Via Colori, Houston, TX
Selected Exhibitions 2014
Mark Bode art show, Aerosol Warfare, Houston, TX
Houston Press Artopia, Winter St. Studios, Houston, TX
The Woodlands High School Art Trust 1st place winner, Woodlands, TX
BISOU, BeHUMAN Gallery, Houston, TX
3rd Annual Star Wars Art Festival (curator), Houston, TX
Triple Threat (co-curator), Bayou Music Center, Houston, TX
Bombay Sapphire Artisan Series Semi-finals, Houston Museum of African Culture, Houston, TX
22nd Annual Art Crawl, Elder St. Artist Lofts, Houston, TX
Selected Exhibitions 2013
Cambridge Arts Association 12th National Price Competition, Cambridge, MA
Kathryn Schultz Gallery, Cambridge, MA
Woodlands High School Art Trust, Woodlands, TX
A Bit of What You Fancy, Spring St. Studios, Houston, TX
War'Hous Strikes Back! (curator), War'Hous Visual Studios, Houston, TX
Georgetown 2013 Art Hop Texas-wide Juried Exhibition, Georgetown, TX
Dandee v Shelb (co-curator)i, Start Houston, Houston TX
26th Annual Dia De Los Muertos, Lawndale Art Center, Houston TX
>20 Square Feet, Chevron Headquarters, Houston TX
21st Annual ArtCrawl, Studio Twenty Twenty, Houston TX
Selected Exhibitions 2012
Ridiculously 80s Inspired Show! (curator), Villains, Houston, TX
Houston Press Artopia, Winter Street Studios, Houston, TX
Star Wars invades War'Hous (curator), War'Hous Visual Studios, Houston, TX
French Connection FCUK (curator), Houston, TX
Ferrari art show, Roak, Houston, TX
Texas Children's Hospital benefit art show, War'Hous Visual Studios, Houston, TX
Kallinen Contemporary Gallery group show, Houston, TX
Lawndale Art Center Mural Project, Houston, TX
Bayou City Festival judge, Houston, TX
Dia De Los Muertos art show, Lawndale Art Center, Houston, TX
Annual Via Colori Mural Project, Houston, TX
Plastic Fantastic, Deborah Colton Gallery, Houston, TX
Selected Exhibitions 2011
KAWS x Moet & Hennessy Co., War'Hous Visual Studios, Houston, TX
Use Your Illusion, Colton & Farb Gallery, Houston, TX
Liz Taylor Retrospective, Muir Fine Art Gallery, Houston, TX
Safewalls curated by Cirque Du Soleil, War'Hous Visual Studios, Houston, TX
Boarded Up!, Gallery M Squared, Houston, TX
Art Crawl 2011, Houston, TX
Houston Press Artopia VIP room (curator), Winter Street Studios, Houston, TX
Tootsies, Houston, TX
The Mix 2, Spring Street Studios, Houston, TX
Group Show, Zen Art Gallery, Houston, TX
Selected Exhibitions 2010
Susan G. Komen, War'Hous Visual Studios, Houston, TX
D. Anderson Fashion for a cause, War'Hous Visual Studios, Houston, TX
Art Crawl 2010, Houston, TX
Solo Exhibition 2011
No Smurfin' Way! (curator), War'Hous Visual Studios, Houston, TX
Honorable Mentions:
Readers Choice Best Artist Of The Year 2011, Houston Press
100 Creatives 2011, Houston Press
Judge for the Bayou Art City Festival 2012
Judge for the RAW Awards 2013
The Woodlands High School Art Trust winner 2014
Bombay Sapphire Artisan Series semi-finalist 2014
Bombay Sapphire Artisan Series finalist 2016
Publications:
 The New York Times, Houston Chronicle, 29-95 Magazine, OnePhilippines News Magazine, Manila Headline, Houston Press, Free Press Houston, O02 Houston Magazine, Origin Magazine, Paper City Magazine, Glasstire, WB Channel 39 news, 365 Things To Do in Houston, Culture Map Houston, NewsFix, Yelp Houston, LOCAL Magazine
Clients and Sponsors:
Cirque Du Soleil
Moet & Hennessey Co.
DeLorean Motor Co.
NFL Super Bowl
IKEA
Yelp
Legacy Community Health
Houston Food Bank
Texas Children's Hospital
MD. Anderson
Susan G. Komen
Houston Press
Vitamin Water
Deep Eddy Vodka
Topo Chico
VoQu Vodka
Lone Star Beer
PBR
Batch 19
ACME Archives Direct

Lucas Film
Disney
20th Century Fox
The Simpsons
Family Guy
Futurama
Cartoon Network
And more…